---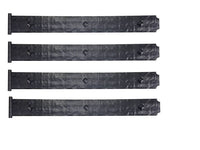 Sale
Offering a Creative magnetic set of four garage door strap hinges, 18" Creative Hardware Mission-style strap hinges w/ studs, and butt pin, sold in four individual hinges and includes FREE SHIPPING!  
For steel doors only
A great way to surprise a loved one with this magnetic hardware hinge set or for your steel garage door. Black finish only. Requires No tools other than a clean metal surface to install.
Customers with heart health concerns handling magnetic items should use care in handling magnetic products.